Have you heard about RareJob?
RareJob is an online English School in Japan, and this company helps a lot of our Filipino Citizen especially like me who wanted to have job in which I can have a flexible time to work, since I'm a busy mom of two kids.
I was able to work in a lot of firms and since I need to stay home because of my kids, I need a work which is a home based. It's already been a year since I started teaching at Rarejob.


What I really like about this company, is that they really take care of their tutors by enhancing their skills in teaching, they offer workshops, a lot of incentives and one of the highlight is the Rarejob ambassadors, wherein selected tutors who passed on deliberation can visit our main office in Japan and can interact with students. Isn't it cool? but I'm not aiming for it. So going back with my story, I really like to interacts with other people especially Japanese people because for me they're very kind and respectful people. Though I teach part time 3 to 4 hours a day I love it because I could communicate to a lot of people in different fields and levels and I have a lot of chance to learn more about their culture.
Here are some pictures that I would love to share.
Our CEO Mr. Tomohisa Kato, was super friendly and humble person, you will never be a stranger to him, he asked questions to all tutors and will really make them feel that your really part of the family.
Awards were also given to deserving tutors.
Loads of fun activities, in this picture we are told to create a picture based on the theme of the event.
Chibugan time!!!!!!
We were group into 3 and I'm proud of my group, they're all talented and shared a lot of tips on this field.
Feel free to visit RareJob site and be part of this growing company.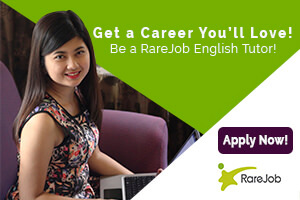 Work from home! Be an online English tutor.
I made a video on this journey, I hope you will like and find it interesting. Thank you so much for reading and watching.
Best regards,
We will triumph with the help of God who will trample down all our foes.(Psalm 108:14)
Follow me on my social media